Bank of Cleveland opened its doors on May 8, 1987 in a mobile facility on Keith Street. Back in 1987, the era of bank mergers was underway and Bank of Cleveland was established to provide Bradley County a true, locally owned and operated community bank.
Today, Bank of Cleveland is the only locally owned and managed bank headquartered in Bradley County.
Bank of Cleveland's main emphasis is on growth, safety and soundness, technology and community.  Year after year, the Bank continues to expand on potential opportunities in the marketplace and leads the pack in strong performance.
With five locations and the largest Home Loan Center in Cleveland, Bank of Cleveland is committed to Cleveland/Bradley County and strives to build a better community. 
We invite you to do business with Bank of Cleveland and give us an opportunity to show you community banking at its best.
History of the Fillauer Building
The Fillauer building was built in 1911 by Will H. and John B. Fillauer, prominent area merchants and owners of Fillauer Lake Recreation Area.  The Fillauer brothers were also the operators of the Moneta Theatre, Cleveland's first movie house, which was located on the ground floor of the Fillauer building.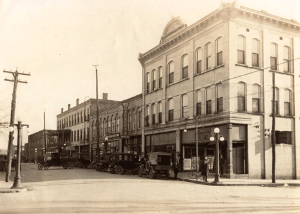 The first businesses in the building were the Moneta Theatre, a silent movie theater which closed in 1931 when sound movies were introduced,  and Fillauer's Hardware Store.  Numerous tenants have occupied the ground floor over the years. Among them were Cookes Food Store 1939-1961 and Abel's Furniture and Hardware 1961-1974.  From 1974-1987, the ground floor was home to various retail stores, the last of which was the antique mall which closed in 1987.  The second floor was occupied by various attorneys and insurance agents.  The third floor was made into apartments.
In May 1987, Bank of Cleveland purchased the Fillauer building from William K. and Elizabeth Fillauer.  Restoration started in the fall of 1987 and was completed in August 1988 at which time Bank of Cleveland moved its main office from its temporary location on Keith Street to the Fillauer building, occupying all three floors.
Bank of Cleveland restored the building to its original condition, retaining the original pressed tin ornate ceiling and hardwood floors.  The two sets of solid oak doors at the front entrance were the original doors to the Moneta Theatre.  Inside the lobby an original film projector is on display.
The building was placed on the National Register of Historic Places by the United States Department of the Interior in June 1989.  It is one of thirteen buildings in Cleveland which are listed on the National Register.
Bank of Cleveland is proud of the contribution it has made to preserve one of Cleveland's historic buildings and to the ongoing effort to revitalize the downtown area.